Keyboard Alert Service
The Keyboard Alert Service (a.k.a. KAS™) from Network Harbor, Inc. is a robust, scalable platform for the issuance, reception, and distribution of alerts to/from desktop machines. Its purpose is to provide your staff with a way to quickly and discretely notify appropriate personnel when an alert condition is experienced. KAS™ can also be used in conjunction with our LightHouse™ solution to notify LightHouse™ system operators that an alert-worthy event has occurred so that those operators can provide an appropriate level of support for emergency situations. Integration with other notification platforms is also supported.
KAS™ clients can receive alert notifications either from other KAS™ clients or KAS™ servers within your organization and alerts can be predefined to appear only on select servers or administration clients as appropriate. The NHI Keyboard Alert Service is designed to give your organization the support it needs in critical moments when a few seconds can mean the difference between life and death.
Integrated keyboard alert service with icons that can be assigned to a variety of issues in multiple categories
Alerts are receivable on your computer, tablet or smartphone via system tray icons, email or SMS
Currently used by the US military, plus state & local government agencies
KAS Overview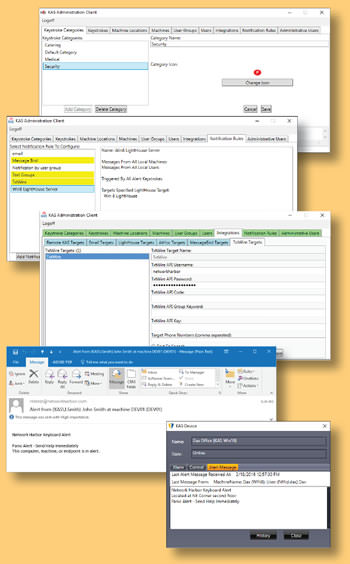 The Keyboard Alert Service is comprised of three primary system components, plus offers additional integrated options.
KAS™ Server – This is the central component of KAS, and all desktop clients and administration clients connect to this server to perform online configuration and real-time signaling, where appropriate.
KAS™ Desktop Client – This is installed on any clients within the organization that needs a quick way for desktop users to send alerts to specific personnel. The client starts automatically at user login and grants them access to any active alerts which will be immediately visible in the system icon tray.
KAS™ Administration Client – This allows online configuration of the KAS™ Server, and includes items such as setting alert messages, assigning keystrokes, configuring machine and user-specific settings, and managing integrations with target systems such as LightHouse™ and/or email.
Current integration options include, but are not limited to:
Email – This allows you to connect directly to your email server to send out alerts and notifications to specific individuals and lists.
LightHouse™ Simple Alert Web Service (SAWS) Portal – This optional portal for LightHouse™ Server implements the ability for LightHouse™ to receive alert messages from KAS™ Servers.
MessageBird – This service delivers SMS mobile messages and/or direct phone audio messages to specific individuals or groups.
Ez Texting – This texting service delivers SMS mobile messages to specific individuals or groups.
Txtwire – This texting service delivers SMS mobile messages to specific individuals or groups.
AtHoc – This mass notification service is used by business, military, government and healthcare entities to transmit alerts to groups or individuals in different formats (phone, SMS, email, and more).
KAS™ Enterprise/KAS™ Peers – This allows integration of your KAS™ Server to other KAS™ systems within your local network or across your entire organization.