SAVvault™ the Premium Leader
The SAVvault™ VMS/NVR is the premium leader in video management solutions. Whether using SAVvault™ as a single stand-alone NVR or as a multi-unit distributed enterprise system, SAVvault™ is the absolute solution.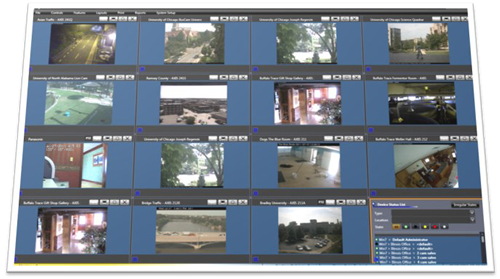 SAVvault™ provides robust features regardless of the system size. Using true server-client architecture, systems can scale with expansion as needed. Every NVR connected is transparent to the system and appears as one common NVR to the user.
SAVvault™ provides all of the standard control features such as pan/tilt/zoom and preset control, and in addition, provides the enhanced management features on both local and /or enterprise level.
SAVvault™ Advanced Features
SAVvault™ provides advanced Features such as IP camera group calls (salvos) and camera sequences that are structured across the enterprise, and when combined with alarm management it enables a call to view and/or recording of single cameras, salvos, and sequences.

Video arrays can be defined for display. The arrays can be called by an operator or automatically called on alarm event.
Predefined camera population and/or camera sequences can be assigned to the arrays for alarm management.
Alarms generated by the cameras such as motion detection, video loss and more can also be generated and received by SAVvault™.
SAVvault™ can also send alarm and other information to external systems via the API.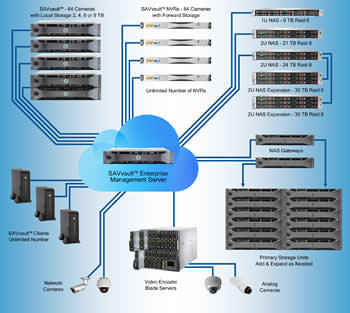 LightHouse™ is the world's leading PSIM/ Building Management/Environmental integration platform that has achieved FIPS 140-2 validation. When SAVvault™ is integrated with LightHouse™, full integration and system interoperability with access control, audio, environmental, alarm, mass notification systems and more are all available.
SAVvault™ offers a full API for system integration and OEM solutions for 3rd party development.