Physical Security Communications System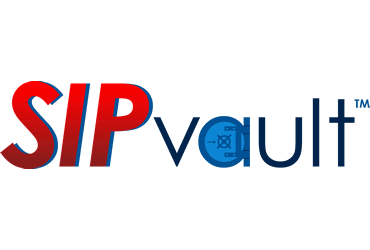 SIPvault™ is a completely integrated physical security communication system designed to give your organization everything it needs to provide instant voice communications for employees and visitors, emergency paging and signaling, and alarm distribution. It can also assist with personal safety, security systems integration, operational efficiency, and even maintenance functions. The SIPvault™ PSCS is also capable of expanding with the addition of optional features, future equipment upgrades and custom interfaces as needed.
Network Harbor can provide you with the complete physical systems integration platform, including engineering and installation supervision, as well as all computer software, hardware and operator equipment required to address your communication, integration, and security concerns - whatever they may be.
Standards
SIP / RTP
SIPS / SRTP
G.711 / G.722
Supports
IPv4 / IPv6
UDP / TCP / TLS
DHCP
DNS
Windows Server
2008 R2 SP1
2012
2012 R2
2016
Key Features
MASTER CALLS - A call can be placed from a master station to any other station (master or substation) in the system by dialing the appropriate number of the station, or by using direct access buttons. Either party can hang up calls, provided they have a physical method to do so. Any SIP-capable IP phone can serve as a master station.
SUBSTATION CALLS - Each substation can be programmed to call a specific master station, or set of master stations, or activate any of the group calling functions. A substation "call-request" call can be identified on a display master, with a text message displaying the name of the calling station on the LCD display, and sound a unique ringtone.
GROUP CALLS - All stations can connect to a call group. It is possible to configure group members and set calling policy (All-Call, Conference, Paging, and Tour) through programming.
ALL CALLS - Stations can be programmed to connect to an all-call group, or master stations can dial the group directly. All stations in the group will receive a pending call (ringing), with the call established to the first answering station. At that time, all other stations have their pending calls canceled. A duplex call is established between the calling station and the first answering station.
CONFERENCE CALLS - Stations can be programmed to connect to a conference group. The call is established with all answering stations. Duplex inter-communication is established between the caller and all answering stations.
STATION NUMBERING - The system has a flexible numbering plan feature whereby any number from "0" to "99999999" can be assigned to stations or feature codes. Dialing remote sources such as POTS lines or between a peered audio server(s) is transparent.
TOUR CALLS - Stations can be programmed to connect to a tour group. Calls are attempted, in sequence, to each available station. After a configurable timeout, as defined in the tour call group setup, the tour disconnects from the current station and proceeds to the next station. The call is established with the first answering station. Duplex calls are established between the caller and the answering station.
OVERHEAD PAGING - Master stations can dial into one or more voice paging system(s) for zoned and/or department paging over-amplified speakers. Simplex audio is then transmitted to all answering stations.
DUPLEX / MANUAL OPERATION - Once a call connection is established, normal conversation can take place in "simplex" or "duplex" mode, where each person can talk "hands-free" as defined by the call group type. Via software control, a master can manually change a duplex conference to simplex, as well as control the direction of the conversation.
AUDIO ALERT - The PSCS can allow audible alerts to be broadcast to any attached station. Alert content can be specified by text and generated using speech synthesis, or utilize prerecorded standard audio files or a combination of the two. Audio alerts can have a set number of repetitions configured to play before the alert is concluded.
VOLUME CONTROLS - The volume of each station can be adjusted by programming. The mechanism for operation may vary between station devices.
MICROPHONE MUTE - During a conversation, anyone can momentarily mute the microphone on any master, though the mechanism for operation may vary between station devices.
CALL RECORDING - The PSCS can also be configured to record calls between stations. Note that this feature requires the NHI SAVvault™ software to use.
---
The SIPvault™ Physical Security Communication System: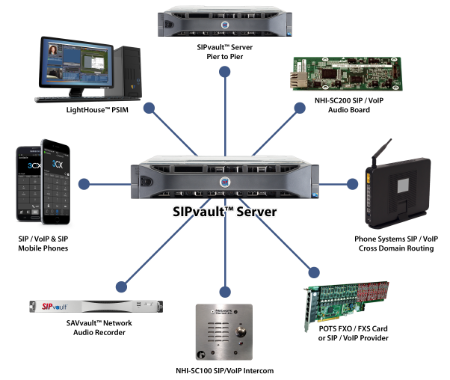 Has full interoperability with NHI SAVvault™ for audio recording (where permissible).
Has complete interoperability with NHI LightHouse™ for command, control, integration, and automation.
Utilizes FIPS Certified Encryption and Hashing Algorithms.
Can have stations added individually, or in bulk, allowing large systems to be configured quickly and easily.
Is simple to configure, maintain, and expand.
Supports device counts limited only by infrastructure.
Interoperates with FXO / FXS devices, or SIP to POTS gateway providers to allow outbound calls.
SIPvault™ is a locally hosted service that provides unrivaled dependability and survivability against natural and man-made disasters. Incidents or attacks that disrupt Internet access will leave intercom functionality unaffected. SIPvault™ can form a federation between other SIPvault™ servers to form large networks between geographically remote facilities across the Internet, with the dependability of intra-site calls unaffected in case of inter-site connection issues. The SIPvault™ Client (as well as LightHouse™ integration) provides real-time call state and participant information, the ability to create and shut down calls, as well as triggering automated announcements.
SIPvault™ is LightHouse™ Ready.
LightHouse™ is the world's leading PSIM / Building Management / Environmental integration platform that has achieved FIPS 140-2 validation. When SIPvault™ is integrated with LightHouse™, full integration and system interoperability with access control, audio, environmental, alarm, mass notification systems and more, are all available. .